Gogo Bars in Thailand are similar to what you would expect of a strip club in Vegas, except you are allowed to touch the girls, they're allowed to touch you back and you are encouraged to take the girls home with you.
In a nutshell: You get a drink, you buy lady drinks for some of the girls you like, you pay bar fine for the girl you want to take with you and either pay short-time (ST) and take her to a short time hotel or pay long-time (LT) and take her back to your hotel.
I'll walk you'll through the process and also cover some tips and tricks for some of the new mongers to avoid the common traps and scams.
What are Gogo Bars in Thailand?
Gogo Bars in Thailand are bars where there are girls dancing on stages or on table tops in the bar. There are usually two or more groups of girls that will alternate being on the stage, while the other group mingles with the guests in the bar.
Most of the GoGo Bars are concentrated in Nana Plaza, Soi Cowboy or Patpong on Bangkok and Walking Street & LK Metro in Pattaya.
Your First Time at Gogo Bars!
Most Gogo Bars will have stadium seats or sofas going around the bar or have some stools that are right up by the stage. Grab a seat with a nice view of the stage and you will be asked to order your drink – which is generally much more expensive than other bars.
The girls will rotate every few songs and then a different batch of girls will come onto the stage at the end of each set. So feel free to wait till you find someone you really like 🙂
Click here for the latest Bar Fine & Drink Prices for Bangkok.
What is a Lady Drink?
Once you're seated and have spent some time checking out the ladies, you can gesture to any of the girls you're interested in to come join you. If you're feeling shy, tell the waitress or the mamasaan the girl's number (on their chest or hip usually) and they will get her for you.
Note: In my experience, making some eye contact and smiling is a great way to feel the girl out and see if going to be a star fish!
Often you will find several girls coming up-to you in the bar and asking to talk with you. Don't be afraid to say you're not interested or the more polite, I'm just here to watch. Of-course, you can also flirt a little bit, have a quick chat – but generally I don't advice wasting their time if you're not interested.
Once the girl has come to sit with you, she will generally ask you for a Lady Drink.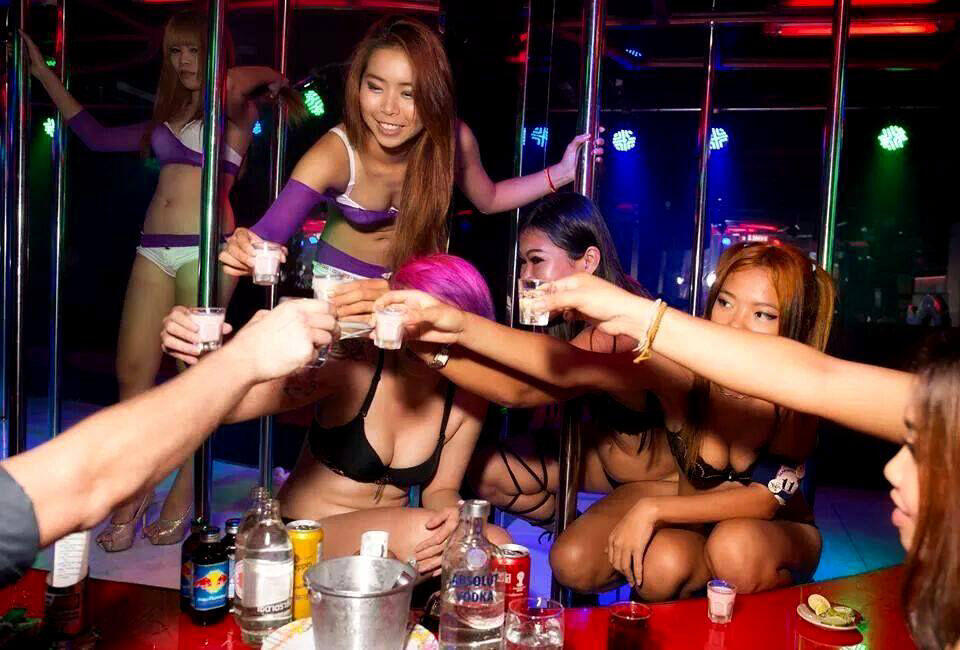 Lady Drink: These are pre-selected, some-what diluted drinks that the bar has available for the girls. These can range from Cola, Juice, Tequila, Tequila + Rose Milk, Beer, etc. Buying her a lady drink will allow her to not dance for a bit and spend some time with you.
Once the girl has her lady drink, she will spend some time with you and then ask for another. Depending on the bar, she may have to return to the stage for a dance in-between drinks as well.
This of-course depends on the vibe of the particular bar and the particular girl but many of the girls will be playful during the lady drink, grind against you, show you their tits, make out, etc.
The Lady Drink is a great opportunity to have a bit of fun with the girls or alternately get to know some of the girls before taking them back to your hotel with you. You can also negotiate some of the details of what you're looking for (Blowjob, Sex, Photos, etc) up front to avoid any hassles later.
Note: Some Bars will have Coyotes, girls that will dance, flirt with you, have Lady Drinks, but not go home with you (or charge an extreme premium to go with you). When in doubt, check with the staff.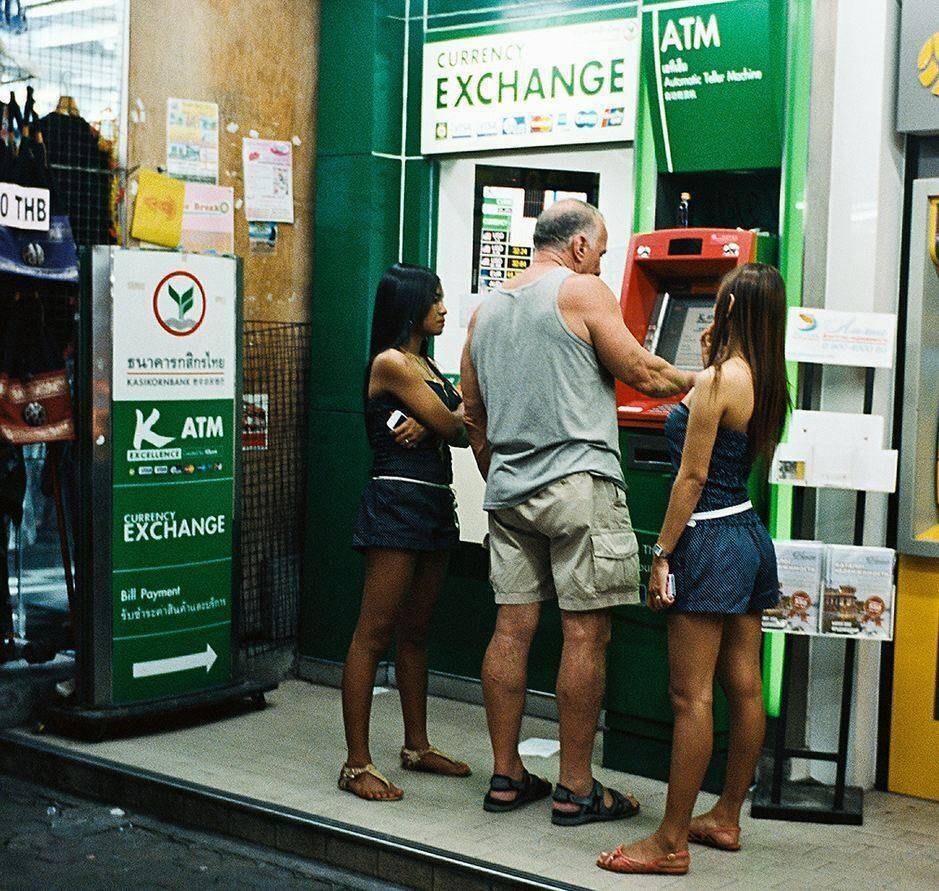 What is a Bar Fine?
The Bar Fine is a fee you are paying the bar to allow the girl to leave early from the bar and go back to your hotel with you. Typically these can range from 400 baht at Beer Bars to 800 baht at most Gogo Bars and 1500 baht at some of the really high end Gogo Bars. This fee is typically paid directly to the bar and is paid before you leave the bar.
Once you are sure you want to take the girl with you and have discussed the details with her, tell her you would like to Bar Fine her. She will either discuss the prices with you or call one of the mamasaans for the negotiation.
In Nana Plaza or Soi Cowboy in Bangkok, the prices will typically be around 700-800 baht Bar Fine, 2000 baht short-time (ST) and 4000 baht long-time (LT). That being said, these are all negotiable depending on the season, time of night, etc.
Short Time vs Long Time
When you decide to Bar Fine a girl and take her back with you, you can generally Bar Fine her Short Time (ST) upto 2 hours (1 shot) or Long Time (LT) upto the next morning with 1 shot before you sleep and 1 sleep when you wake up.
The price for ST vs LT typically ranges from 2k for ST and 4k for LT, however it can differ depending on the bar.
Click here for the latest Bar Fine & Drink Prices for Bangkok.
This fee is generally paid directly to the girl before she leaves and after the deed is done. Generally speaking, I consider the girls demanding the fully money up front as a warning sign and avoid those girls.
Depending on the performance, I would also add another 300-500 baht as a tip for the girl.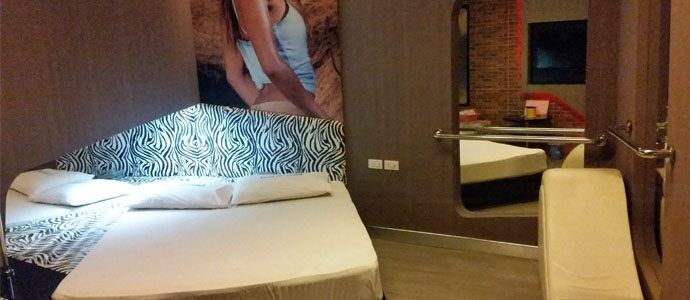 What is a Short Time Hotel?
If you're taking the girl for Short-Time (ST) and do-not want to take her back to your hotel, you can ask her to take you to the closest Short Time Hotel.
As the name suggests, these are hotels specifically designed for short-term rental (1-2 hours) and include everything you need for your romp. A Bed, a shower and some condoms. The should cost you around 300 to 600 baht for 2 hours.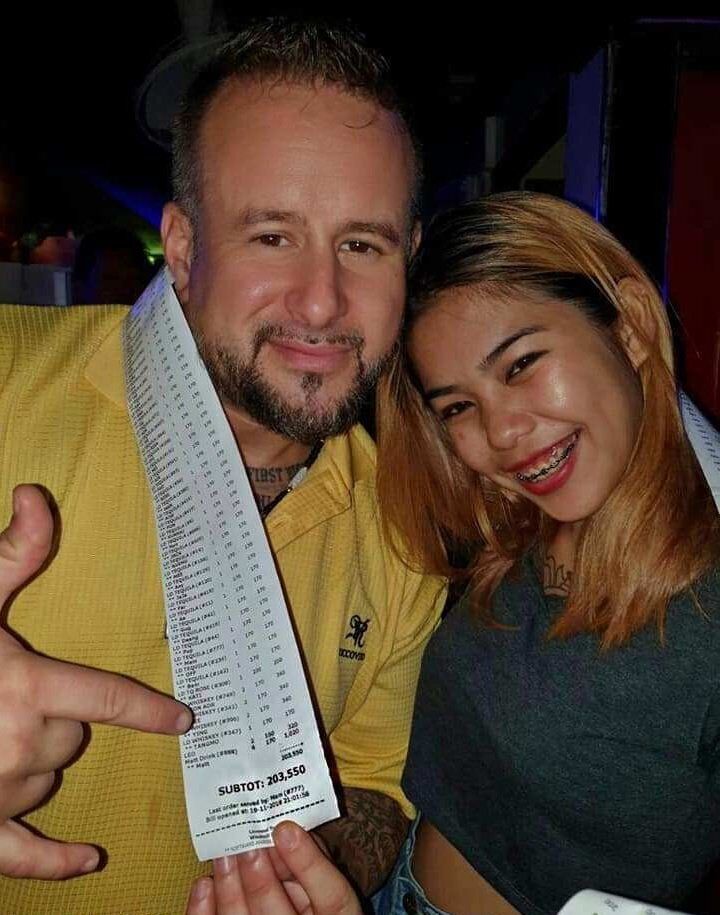 Don't Look for Love at GoGo Bars
One last and most important piece of advice – Don't all in love.
These girls are here to have sex with you, to give you the illusion of love and passion. They are experts at tugging on heart strings and asking for extra money the next week for her sick mother, her buffalo that needs a surgery or to allow her to leave this life style, move back to her home town and dedicate her life to you.
These girls are pros. They lie. This whole experience is about a bit of companionship and a lot of sex. Leave it at that.
Is it for you? I guess there is only one way to find out.