Doki Doki Massage Bangkok – Nuru Massage was only 4 or 5 months old when I first visited. Today it is several years old and well established as one of the best Nuru Massage shops in Bangkok.
Started by her partner and the lovely Nina, the service is modeled after a Japanese Nuru Massage shops like Mitu Massage. This isn't surprising though, since Nina herself and a few of other girls at Doki Doki Massage Bangkok have previously worked at Mitu.
I first tried a Nuru Massage several years ago at a Soapy Massage Shop and had a very disappointing experience. My experience at Doki Doki Massage Bangkok changed my opinion about Nuru and I even ended up visiting them a few more times that week.
Their website shows fairly accurate photos of the girls (without their faces) and their Line ID (@cvr7230p) can let you know which ones are working today or make a booking for you.
They are located in the red building across from Paradiso 31, right next to a restaurant called ISAO.
Note: The team at Doki Doki has worked hard and continued operating through this pandemic.
Address: 3/25 Soi Sukhumvit 31, 10110, Bangkok
Price: 3000 baht (60 minutes), 3500 baht (90 minutes)
Rating
Girls: 4/5
Rooms: 5/5
Service: 5/5
Price: 4/5
Would I Repeat: 5/5
Total Rating: 4/5
The Girls at Doki Doki Massage Bangkok
As you enter the shop, Nina will sit you down on a sofa and show you the girl's photos on an iPad (this time with the faces visible). If you prefer, you can even ask her to call a line-up of the available girls. All of the girls that I saw in the line up were attractive and young; significantly better than your average massage in Bangkok.
The first time I visited the shop – I took a 4 Hands 90 minutes Nuru Massage with Nana & Helen. My second visit was a 2 Hands 90 minutes Nuru Massage with Kyoto who came very well recommended from her time at Mitu Massage.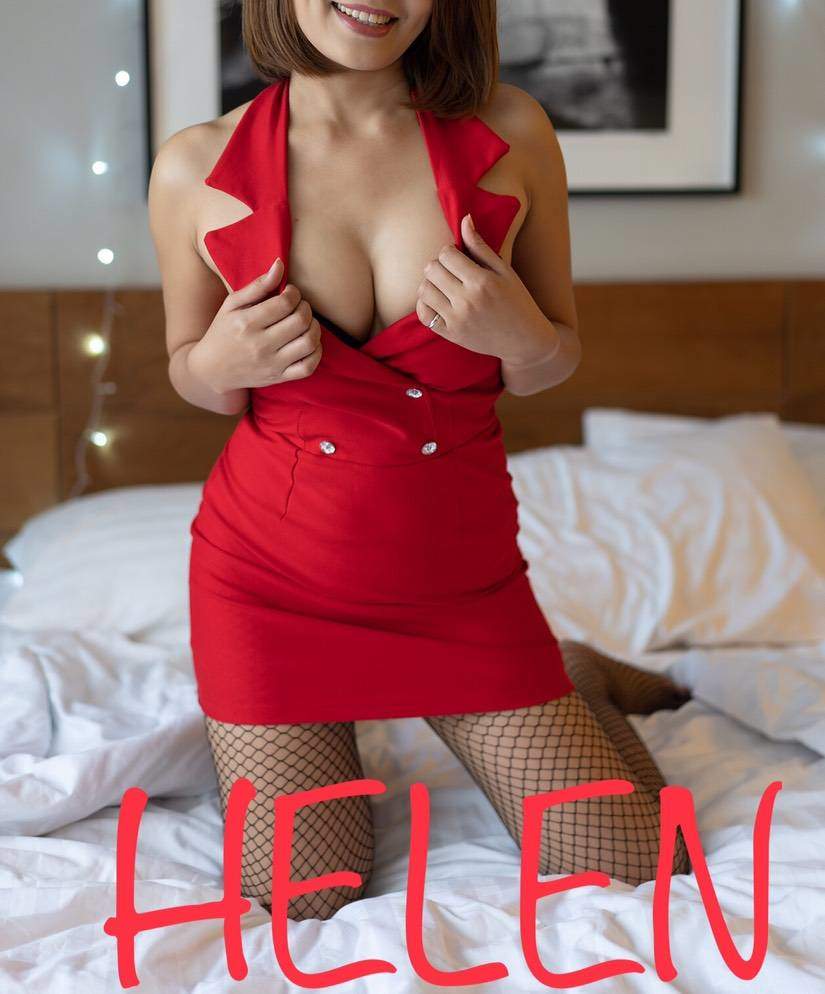 Nana is 25, very beautiful, tiny spinner body, small lovely breasts, fair, has an incredible personality and is hilarious. Helen is 29, attractive with a fit body, medium breasts, a nice ass, tremendous skills that can make your toes curl! The two of them made a fantastic combination.
Kyoto is a bit larger with lovely breasts, abundant personality, great English and an absolute nymphomaniac in the room. If you're a fan of Japanese porn, she is the girl to go with! You can thank me later 🙂
The Ambiance
The shop has a lovely vibe and is tastefully decorated, you would almost think its a legitimate spa when you walk in :D. Although, Nina the owner is adamant that she wants to renovate and make the place even nicer!
The rooms are fairly large and spacious. I used room 001 both times and it had a large bed along with a massive inflatable mattress for the Nuru bit. The other rooms are a bit smaller but all-the-same they are well maintained and are much nicer than the Bangkok standard.
The girls even set up a bit of music in the room which was a nice touch.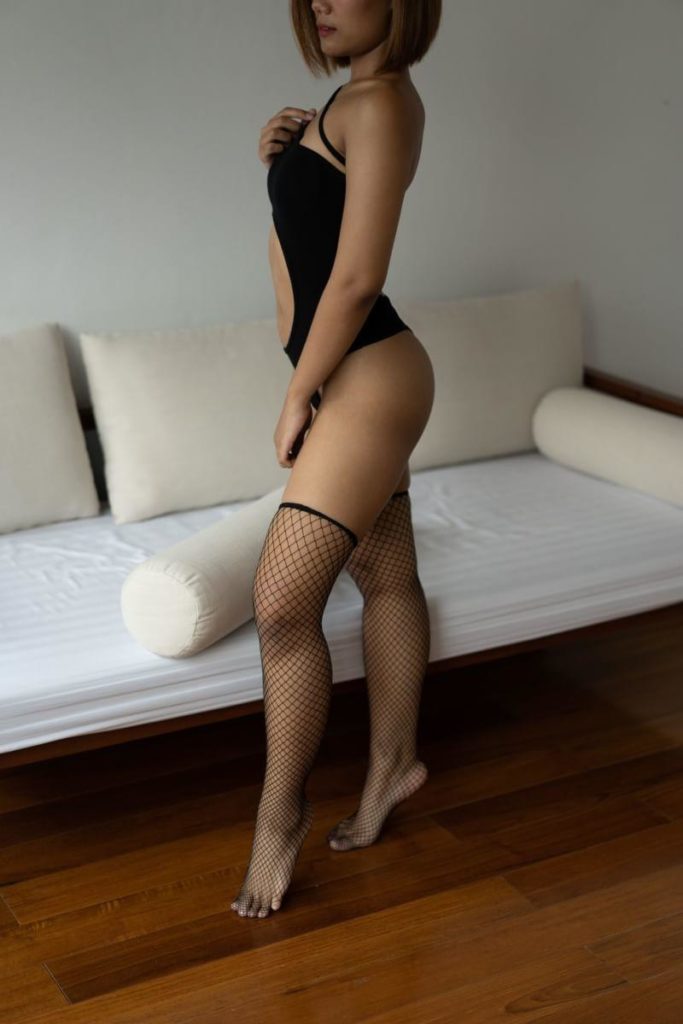 The Nuru Massage Experience
Once you've made your choice, the girls will offer you a drink and walk you up the stairs.
They quickly stripped down, revealing flawless bodies with a small well-maintained bush. As one of the girls took my clothes off, the other one got started on setting up the Nuru mattress and gel.
Instead of starting with a shower, the girls laid me down and playfully soaped me up with just a bit of a B2B massage. Once they had thoroughly scrubbed me, they mixed up the Nuru gel and started pouring it all over me.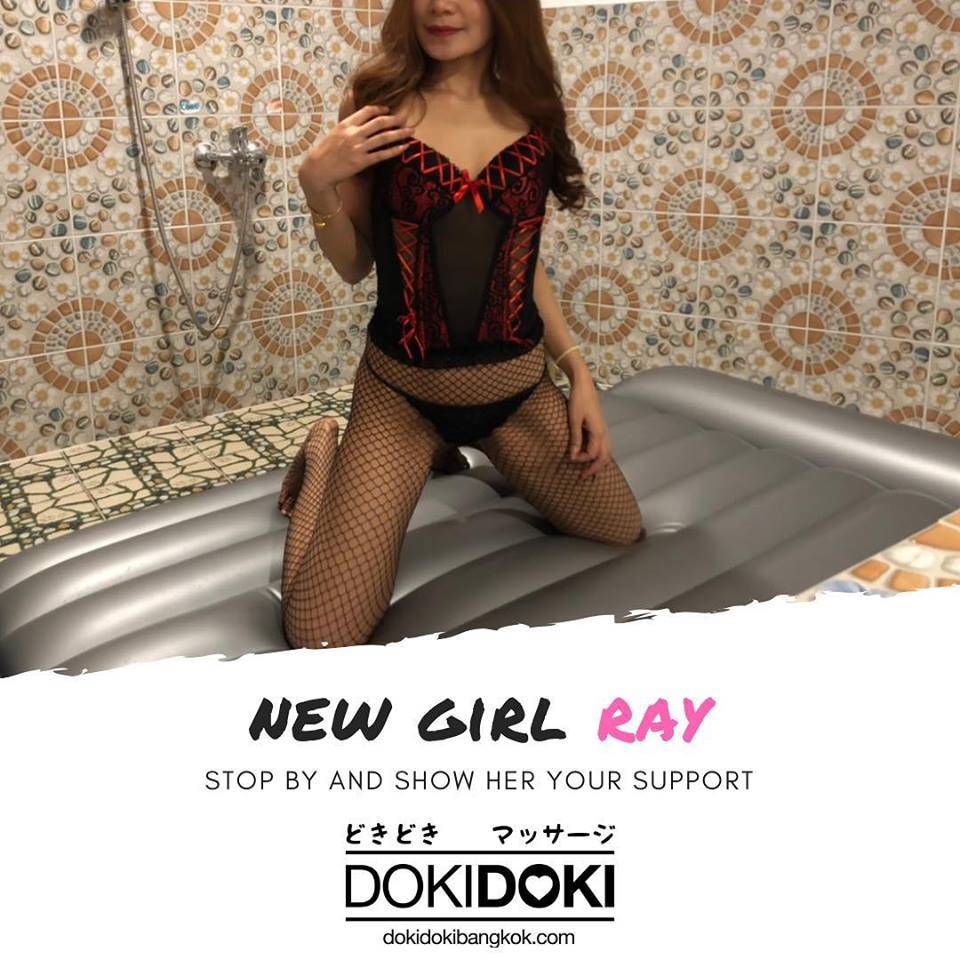 The Nuru massage bit was brilliant – both the girls licked every inch of me in a synchronized manner. I mean this fairly literally – from your ear to your toes – they don't leave an inch.
I had four breasts, four hands, two tongues, and two hairy bushes rubbing up against me at the same time – It was divine and just a bit overwhelming even!
The girls went through a fairly standardized Nuru process – Lots of licking, lots of gliding / B2B, and even a bit of rimming. They used their breasts, ass, even their bush to massage different parts of me. Eventually, they turned me around and did the same to the front of me. Although this time it ended with a synchronized blowjob from both the girls at the same time.
The Sex!
In my first experience at Doki Doki, I decided to continue with the full service on the inflatable mattress itself. With two girls it was quite a bit of fun since everything was slippery, wet and well lubed! On my second experience, I chose to continue on the bed which was fun as well, although more traditional.
In both cases, the sex was great and the girls were very eager to please and insisted on doing everything they can to ensure multiple shots.
With about 10-15 minutes remaining – Kyoto gave me a very nice massage and we spent some time talking about her life, her insatiable need for sex and her struggle to find good sex toys in Bangkok.
Final Thoughts on Doki Doki Massage
Both my experiences at Doki Doki Bangkok were phenomenal. Between the great looking girls, the great service and the nice rooms – I am an absolute convert and will be dropping by as often as I can.
Is it for you? I guess there is only one way to find out.