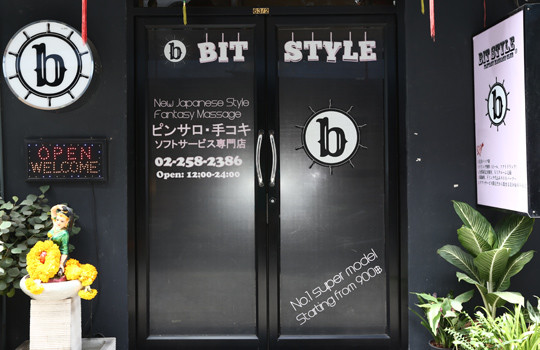 BitStyle Massage claims to be a Japanese style high-end massage parlor, however it leaves much to be desired when compared to places like 7 Heaven Bangkok and Doki Doki Bangkok.
I've not put up any photos for this shop since the photos of the girls and the rooms on their website are not accurate at all. This is a clear case of bait and switch.
Website:  http://bitstylemassage.com/ 
Address: Soi Sukhumvit 22 – Soi Som Song 101/1, Khlong Tan, Khlong Toei, Bangkok 10110
Price: Starts at 1300 baht
Rating
Girls: 1/5
Rooms: 1/5
Blowjob: 1/5
Price: 1/5
Would I Repeat: 0/5
Total Rating: 1/5
The Girls at BitStyle Massage Bangkok
As I walked into the BitStyle Massage shop on Soi 22, I got a cold stare from the shop manager who was busy reading a newspaper. The only girl that was available at the time (not one of the girls listed on the website), sat me down on the sofa and showed me a menu.
She was definitely not pretty and did not warrant the premium price that is normally charged at parlors where there are young and pretty girls available for service.
I do-not think the photos of the website are accurate or updated, many of the photos seem to be "borrowed" from other massage parlors.
The Ambiance
The shop itself is fairly standard for Bangkok, as you walk up the stairs, you are lead into a dark dingy room with no air-conditioning or fan! Just a small sofa, a side table and barely enough room for the girl to kneel. The walls are barely 6 feet high, so if you're a tall guy – you would definitely be able to see the action in your neighbors cubicle. Either way, you will definitely hear all the action from the other booths.
The Blowjob
The girl undid a few buttons of her school girl uniform, kept the bra on as-is and a few wipes of a cold tissue later – the blowjob bad began.
About 5 minutes into the blowjob, I was pretty sure she was going to rip the head of my cock off. She was super fast, only worked on the tip and had little to no skill about how to give a great blowjob. About 10 minutes in, I knew there was no way I was going to cum – This was a terrible experience in all possible ways. Bad view, bad setting, bad service.
I tried to leave without finishing but the girl insisted that I finish and eventually started giving me a hand job. Unfortunately her death grip meant this was a terrible hand job as well and eventually I made an excuse and left!
Final Thoughts on BitStyle Massage Bangkok
At 1300 baht, BitStyle was one of the most disappointing experiences I have had in Bangkok. I went back to room for a quick shower and made an appointment with Mimi over at Doki Doki Bangkok for a 90 minute Nuru Massage to make up for the terrible experience.

Is it for you? I guess there is only one way to find out.