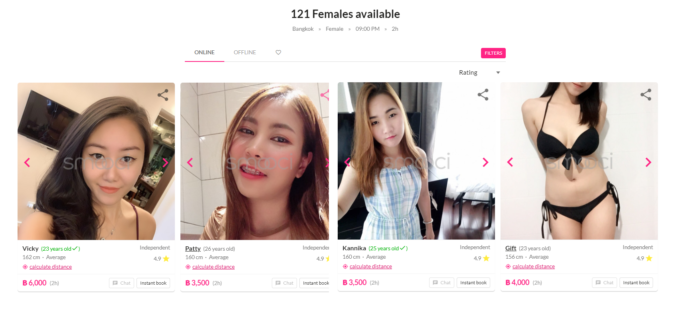 The first time I used Smooci for my review, it was bit of a magical and surreal experience. All the simplicity of calling for an Uber with the added benefit of a lovely girl with her mouth on your dick.
You open up the website, select a time and it presents you with a 120+ beautiful girls (or ladyboys if you prefer) to select from. Select the girl you like, tell her what you want and a thirty minutes later the girl will be at your door step. A few minutes later, her panties will be on the floor.
In-case you would like to know more about the operations and team behind platform, take a look at our Interview of the Smooci Team.

The Girls on Smooci Review
Smooci is basically an organized and better managed version of an escort directory. Agencies add their girls, independents register and list themselves. The girls set their own schedule, price & offer services they are comfortable with.
What this means is – YMMV (Your mileage may vary). The decentralized nature of the platform means that some girls will give you a great performance, some will not. Some girls heavily photoshop their pictures or may attempt a bait and switch. While some will show up looking better than their photos. I've added some tips below to help you make the best choice!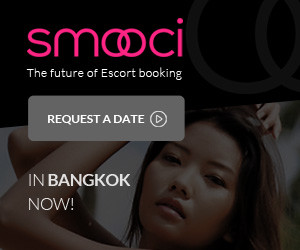 Should You Buy Premium?
The premium subscription of Smooci.com costs 10$ for 3 days, 15$ for 7 days, 25$ for 30 days and 100$ for the year.
I'll list down some of the advantages of buying Premium to help you decide whether its worth it.
Book 24 hours in advance – As more people start using Smooci, its becoming harder to book the more in-demand girls. This gives you an edge by booking girls that you like in-advance.
Age & photo verification – Premium subscribers get to view user feedback of the girl's photos along with her age verification. This can be very useful if you're worried about bait and switch.
Chat with escorts – Have a specific kink? Got concerns? Open up your chat window and talk to the girl before you book her.
Reviews – Most importantly, you get to view reviews of past customers and get specific feedback about her service, performance, look, attitude, etc.
How To Pick The Right Girl on Smooci?
If you have Smooci Premium:
Read the reviews! – Don't just rely on the ratings. Different guys have different expectations and the reviews let you understand exactly whats good and whats not.
See how often she has been booked before – This is really important because a girl with 5* rating and only 1 review is probably a much bigger gamble than a 4.6* girl with a 100 reviews.
Check her age and photos – Make sure she is actually as old as she claims and the photos are reasonable accurate. You don't want her mother showing up at the door 🙂
Chat with her – If after all that, you're still not too sure. You can use the Chat functionality and quickly talk to the girl for a few minutes. This should definitely give you some hints about her attitude and mood.
If you're a cheap charlie and didn't spring for Smooci premium, its a bit more of a gamble:
Ratings – As a practice, I don't book any girl if she's under a 4.5 (unless I've specifically read good reviews on forums or blogs).
Photoshop Factor – Most of the girls that have photoshopped pictures have done a terrible job. If the photos look very photoshopped other than the usual standard in Bangkok – that's a big no from me!
Reviews – Many online forums and blogs have reviews for the girls (search for her agency). You can usually find reviews for Smooci girls on InternationalSexGuide, Bangkok-Addicts or Sex141.
Final Thoughts on Smooci Review
I've used Smooci many times and have a premium subscription. My experience using Smooci has been fairly mixed, with some phenomenal and some not so great sessions. Most of my bad experiences though have been with agency girls and I've generally had a much better time when booking independents.
That being said – I've found that having the premium subscription and the being able to chat with the girl and read reviews is a huge advantage in making sure you have a good experience.
Is it for you? I guess there is only one way to find out.