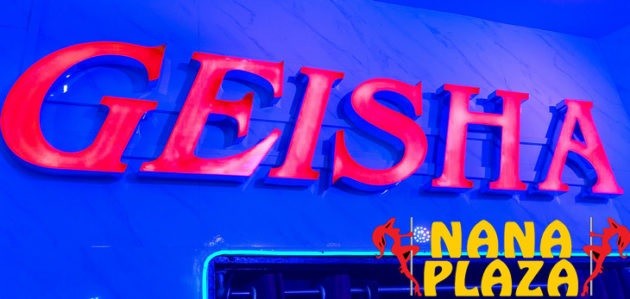 Geisha Gogo Bar is one of the newest and largest Gogo Bars in Nana Plaza. Its conveniently located right next door to the Nana short-time hotel at the location that used to previously hold the Charades Ladyboy Bar.
Between the size of the bar, the luxury of the seating space and the abundance of girls – its quickly becoming my favorite bar in Bangkok.
Update: Since my review, Geisha has drastically gone down hill. They seem to only have a handful of girls on stage and I'm fairly disappointed that this bar has not lived up to its potential. I'll put up an updated review shortly. 
Prices at Geisha Gogo Bar
Bar Fine:8700 baht
Lady Drink: 170 baht
Beer: 170 baht
Tequila: 170 baht
Short time: 2-3k baht
Long time: 4-5k baht
Ratings
Girls: 4/5
Dancing: 4/5
Debauchery: 4/5
Price: 4/5
Service: 2/5
Total Rating: 4/5
The Girls at Geisha Gogo Bar
Geisha Gogo Bar is a large bar that has a huge center stage (with a raised performance area on one end) that hosts 40-50 girls at a time along with a large shower cubicle that can easily fit a few girls along with a crazy monger!
Geisha seems to have sourced a lot of it girls from Badabing and Glamour in Patpong – so many of the girls are of the typical spinner variety. But considering the large number of girls on stage – there really is something for every type 🙂
There are some very attractive girls on stage though only a few of them seem to really enjoy dancing while the rest perform the usual Bangkok shuffle.
The girls in Geisha can be a bit pushy about drinks and they do insist that you buy two drinks for any girl that you pull off stage. You can usually get around this by letting the girl know that you would like her to come by once shes done with her dance.
In-addition to the large main stage, they also have a large shower cubicle towards the back near the bar. Though there haven't been any girls in the shower the dozen or so times I've dropped in so far.
The Staff
Most of the staff at Geisha have been hired from many of the bars at Nana and Soi Cowboy. If you've been coming to Bangkok for some time – you will definitely find a familiar face. I walked in to find my favorite waitress from Angelwitch along with a familiar face from Spanky and a mamasan that used to work at Butterflies a few years ago.
Service is prompt and the drinks are strong, but the staff at Geisha are fairly pushy about drinks and tips. They also use loose paper bills instead of a computerized system, so do be careful about bill padding.
The Shows
Geisha has erotic shows that take place every half hour or so. The exact nature of the show varies but they are all very erotic and usually involve multiple girls and some lesbian action.
Unfortunately the shows don't involve the audience at all – so they can get a bit boring sometimes.
The Ambiance
Its one of the largest and most spacious bars in Bangkok – They have sofas going across the back of the bar, stadium seating going across the front and high tables and stools in the side of the bar. The sofa seats are the most comfortable of-course, but I find the best girls are usually in the section in front of the stadium seats.
Final Thoughts on Geisha Gogo Bar
Geisha's is a fantastic new addition to Nana Plaza. As long as they are able to address the pushy staff and girls – they will become one of the favorite bars for visitors to Nana Plaza.
Is it for you? I guess there is only one way to find out.