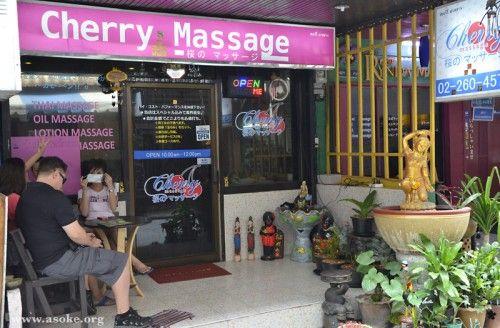 Cherry Massage Bangkok on Soi 24 has been around for a long time and is one of the popular PSE massage places in the city. Their massages typically include Anal (A+), Rimming, CIM in every booking without any additional charge or request.
I reached out to the shop owner – Nadear via email to setup my appointment for 2 PM the next day. His responses were prompt and clear, however when I showed up to the shop the manager was not aware of my booking and I had to return at 3:30 PM for the appointment.
If its your first time walking into the lane in Soi 24, it can be a daunting experience. Both sides of the street are lined with massage parlors and many girls will be yelling at you trying to get your attention as you walk to the end of the street to find Cherry Massage.
Website: https://cherrymassagebkk.com/
Address: 6/10 Soi 24/1 Sukhumvit Road, 10110, Bangkok
Price: 1900 baht (60 minutes), 2100 baht (90 minutes), 2300 baht (120 minutes)
Rating
Girls: 3/5
Rooms: 2/5
Service: 3/5
Price: 5/5
Would I Repeat: 2/5
Total Rating: 3/5
The Girls at Cherry Massage Bangkok
As per Nadear's recommendation, I made an appointment with New. She seems to be a very popular girl that has recently returned to the shop. The website photos seem to be heavily photoshopped and New was quite a bit larger than her photos. Although, she had a great attitude, was really fun and cheerful and just the right amount of "ting tong".
As is fairly standard with PSE massage parlors, most of the girls are a bit older and not as attractive as the girls in the GFE places or Gogo Bars.
The Ambiance
The shop is fairly small and standard for Bangkok – nothing fancy. Once you've made your payment to the shop manager, the girl will come down the stairs and take you to one of the rooms.
The rooms themselves are small and basic. A small single bed, a shower cubicle and an air-conditioning. There are mirrors lining the side-wall next to the bed so that you can enjoy the view.
The Massage Service
Once I was in the room , New went to get her basket with some body-wash, mouthwash, condoms, lube, tissues etc. As she came back to the room, she ushered me into the shower and we had a nice long shower together with lots of playful fun.
She gave me a complete rub down and did a bit of standing B2B. Once weon the bed, New suggested that we start with a massage before we move onto the main course and I agreed.
The massage was actually good, shes a strong girl and was able to give me a fairly strong legitimate massage with lots of B2B. As I said earlier, she has a great attitude and was very playful throughout the session.
As I flipped, she started with a deep BBBJ which went on for atleast 10-15 minutes, She was definitely skilled with lots of eye contact and did a really good job. This was followed by sex in various positions, taking advantage of the mirror for some extra fun. At this point, I asked New about Anal and she said she wasn't aware I was interested and went to the shower to make sure she was clean. She returned and got on top into the Cowgirl position for some Anal fun, followed by some more action in doggy style.
Eventually when I decided I wanted to finish in CIM, New was a champ and refused to stop even a few minutes after I finished and made a big mess 🙂
This was followed by another quick shower and I was out on my way back into the Bangkok heat.
Final Thoughts on Cherry Massage Bangkok
Cherry Massage was an average experience for me. The choice of girls was not great and although the service was good, New forgot about Rimming or Anal until I had to specifically ask. That being said, at 1900 baht for an hour – its definitely a good place to go for a cheap session.
Is it for you? I guess there is only one way to find out.