Honey Bee Massage in Bangkok is part of a series of massage shops that line the alleys of Soi 22. Its owned by the same group that runs Bangkok Passion Massage, Absolute Massage Bangkok, Bangkok Bunny Massage, Kiss Bangkok Massage and Thai Candy Massage.
This means that you can pick girls from any of these shops to come service you in the rooms from any of the other shops.
For me, this meant that I was able to have a threesome hosted at one of the VIP Jacuzzi rooms in Kiss Massage with Linda from Honey Bee Massage and Jeab from Bangkok Passion Massage.
For the faint hearted – this massage was one of the dirtiest sexual experiences I've had in a while and definitely exceeded the experience I had at the legendary Eden Club in Bangkok.
To setup my appointment, I reached out to the mamasaan over Line and promptly worked out the details. I wanted a 2 hour session, with 2 girls, who were into rimming and willing to perform full lesbian action.
The mamasaan recommended some girls that would fit the bill and I decided to book Jeab and Linda.
Phone: +66 96 394 58 72
Line: honeybeemassage
Address: 261/4 Sukhumvit Soi 22, Bangkok
Price: 120 minutes with 2 Girls - 5000 baht, 1000 baht extra for Rimming & Lesbian
Rating
Girls: 4/5
Rooms: 4/5
Service: 5/5
Price: 3/5
Would I Repeat: 5/5
Total Rating: 4/5
The Girls at Honey Bee Massage Bangkok
I enjoyed the mix of girls – some young spinners, some experienced kinky girls, some beautiful ladies with giant jugs, etc. When you factor in that you can ask for any of the girls from any of their sister shops, the line up available at Honey Bee can beat most massage shops in an instant.
After going through the website pictures and considering the mamasaan's recommendations, I decided on making my booking with Linda and Jeab. I had a feeling they would make a fun duo and I wanted to experiment with some different body types having had enough of my usual young tiny spinners. Also girls that are more experienced generally make for the best threesomes.
I walked into the shop to find a busy mamasaan chatting away on the phone. I was greeted by the beautiful Linda in a tight black dress that showed off her giant tits and lovely ass. A few minutes later the sexy Jeab came over with her perky tits and tiny ass. With a lady on either side of me, I was led to the Kiss Massage shop as the mamasaan had found a special VIP room for me.
Walking into the shop, both the girls were giggling as this was their first time together and they were a bit amused that I had asked for Lesbian action to be included.
The Ambiance at Honey Bee Massage Bangkok
A girl on either side of me, we walked into the Kiss Massage shop and up some stairs until we reached a large room with a double bed in the middle and a jacuzzi in the corner. There was a large mirror on the wall running across the room, which is an "essential" part of any threesome for me.
Everything was reasonably clean, the air conditioning was doing a good job.
The Jacuzzi
Jeab got the jacuzzi going, while Linda stripped me naked and started playing with my cock. She grabbed by hand and led me into the Jacuzzi to rest while the both of them went away for a quick shower.
As I waited the 5 minutes or so it took the girls to come back, there was some very nice music playing outside and the jacuzzi had reached the perfect temperature. Once the girls got back, they were in towels which they promptly dropped to reveal two very different bodies.
Linda has milky white skin, a beautiful smile and is a large girl, definitely recommended for anyone thats into BBW. She has some gorgeous giant tits on her although there is significant baby damage on her stomach. Jeab on the other hand is skinny, with some tiny tits and a nice ass.
Jeab sat down in the jacuzzi and had me sit down with my back against her tits. Linda sat across from me and started putting soap on my body. The next 20 minutes or so was spent with Linda sliding her gorgeous tits and giant ass all over me, while Jib licked my neck and ears clean. Both the girls took turns to reach for and play with my cock, occasionally making out or spending some time licking each other tits. Every now and then, Linda would surprise me by playing with my asshole and putting her finger up there. I didn't really enjoy my Prostate massage experience at Analisa Massage in Bangkok, but surprisingly I really did enjoy it this time around.
As you may remember from my experience at Hera's Massage in Bangkok, I've never enjoyed a Jacuzzi massage before, but this was absolutely heaven.
The Blowjob & Rimming
About 30 minutes into this amazing Jacuzzi soapy experience I was enjoying, Linda asked if she could blow me and who was I to object. She put my legs on her shoulders and started slowly sucking on my cock while Jeab took turns playing with my balls and Linda's tits.
After a few minutes of this, we decided we had to move onto the bed to really get this party going. All of us dried down a bit and the girls asked me to lay down face first on the bed.
Jeab – who has some serious massage skills – started massaging my back, hands and neck while Linda – who is one amazing dirty girl – started slowly licking my legs, ass, asshole and using her tits to rub oil all over me.
After a bit of the foreplay, I turned around and the girls started taking turns to blow me, while the other one played with my balls or shoved her tits in my face.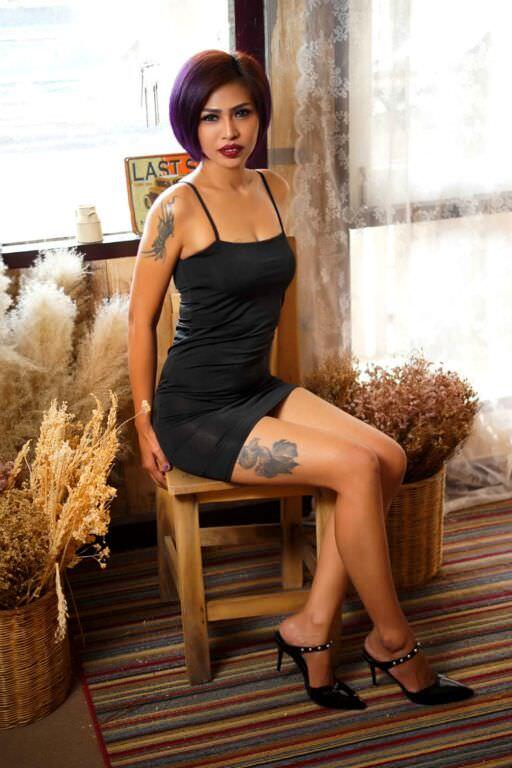 The Lesbian Action
After a few minutes, I decided I needed to start directing my own fantasy porno – so I got assertive. I direct the girls to start tandem blowing my cock in perfect sync, they even took turns to make out with the head of my cock blissfully in between their lips.
Next, I had Jeab lie down on her back, while Linda spent some time eating out her pussy. I took my seat upon Jeab's face and she spent the next 15 minutes devouring my cock and juggling my balls in her mouth – absolute fucking heaven.
Then we switched – Linda lay down, Jeab started eating her pussy and I sat down on Linda's face with her tongue deep inside my asshole while I rode that face like there was no tomorrow.
Absolutely fantastic performance by both the girls and they were genuinely very open to direction and fulfilled every dirty fantasy I've ever imagined for a threesome.
The Sex!
Almost an hour into this session, I decided it was time I fuck Jeab. I lay down, Jeab got on top and Linda started licking my balls from behind. We switched into a few different positions and Linda alternated between licking jibs tits, rubbing her tits all over my face and licking my balls – while I spent the next 15-20 minutes fucking Jeab in various positions.
Eventually, I blew my load and the Jeab and I collapsed onto the bed while Linda giggled away and immediately demanded her turn. We spent some more time with foreplay, had some more lesbian action and eventually I found the energy to give Linda a good fucking before finishing by cumming all over both their tits.
Final Thoughts on Honey Bee Massage Bangkok
I went into this session a bit hesitant, I had picked girls that were not my normal type, I had asked for Rimming and Lesbian action – which are fairly rare to find with any genuine talent in Bangkok.
However, the session I had was absolutely fantastic and exceeded any expectations I could have had. The combination of Linda and Jeab was amazing and I really enjoyed the best of both worlds. One super dirty girl with giant tits along with a submissive girl with with a nice body and tiny tits. Both well experienced and willing to follow instructions. I definitely thoroughly enjoyed my session at Honey Bee Bangkok.
Is it for you? I guess there is only one way to find out.